A DOCUMENTARY BY JEREMY ROBINS
AND MAGALI DAMAS
NEWS:
June 2012: Northside Festival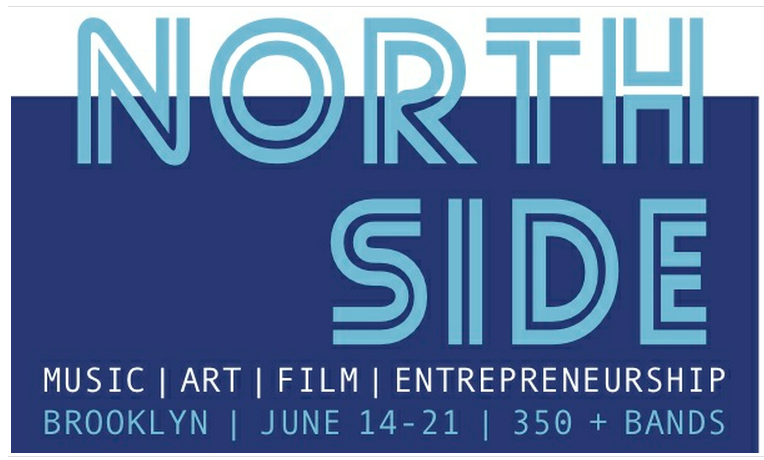 The Other Side of the Water is closing out the Northside Festival in Brooklyn, followed by a closing-night party with performance by none other than DJA-Rara
September 2011: DVD Available on Amazon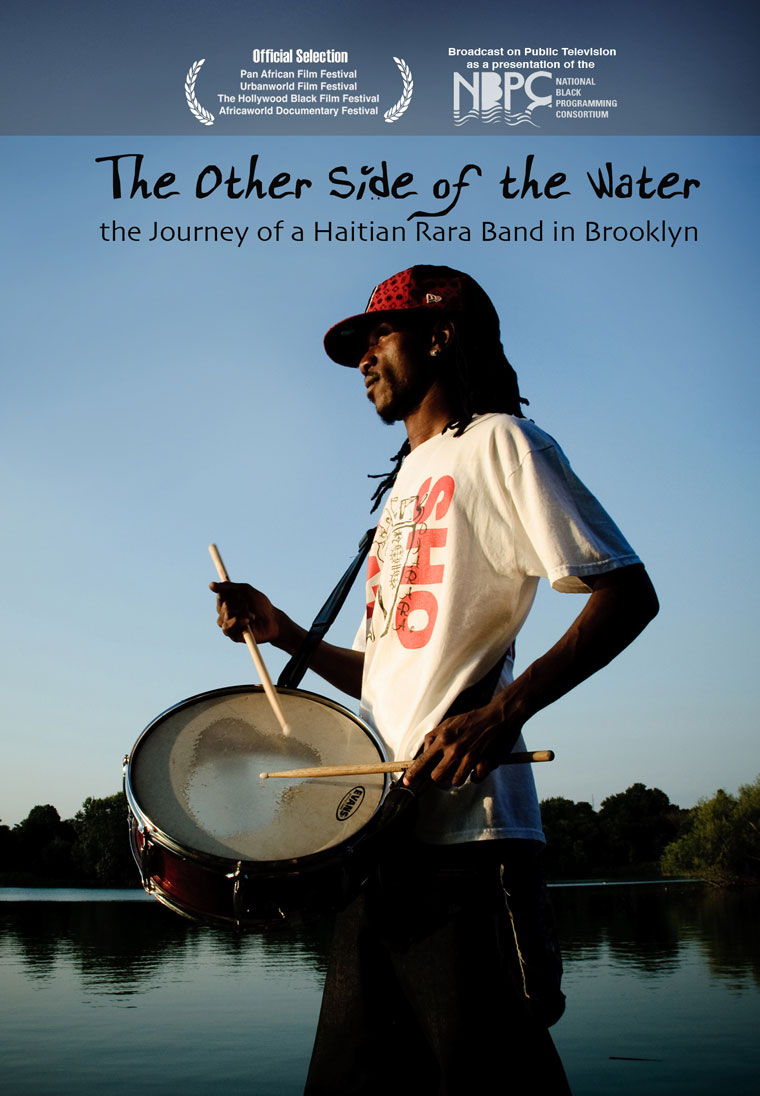 At last, our official DVD is available for sale on Amazon.com. The disk features the broadcast version of the documentary, plus tons of extra scenes, ground-shaking rara performances, and a mini-doc on the band's trip to the Obama inauguration in Washington D.C.
May 2011: Third World Newsreel
We're happy to announce that we've partnered with Third World Newsreel for educational distribution. TWN has been distributing high-quality social justice documentaries since 1967, and we're very excited to join their roster. Institutions can find out more HERE.
April 2011: THE CREOLE CONNECTION
New Orleans Jazz Fest and Festival International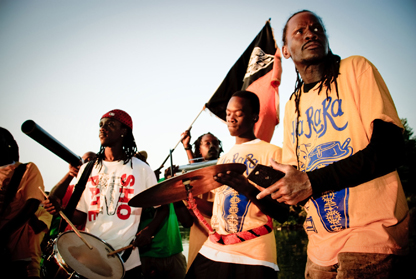 The band and film are back from an amazing trip to New Orleans for the Festival International De Lousiane (in Lafayette) and the New Orleans Jazz Fest. It was a whilrwind four days of screenings, parades, and cross-cultural jams. The National Geographic travel blog picked DJA-Rara as one of the highlights of the festival. See some great photos and press coverage HERE and HERE.


January 2011: Public Television Broadcast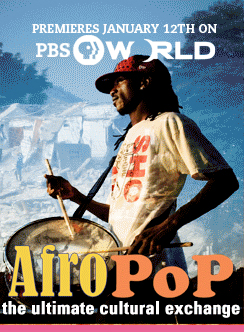 The Other Side of the Water's broadcast premiere on Public Televison's World Channel was January 12, 2011, and it is being broadcst throughout 2011. It is this opening episode of the series "Afropop: The Ultimate Cultural Exchange", and will be preceded by the short doc "Haiti: One Day, One Destiny" by Michele Stephenson.
Find schedules and your local stations HERE
2010 Year in Review: a selection of some joyous moments from a very difficult year.
January: Release Party with Alan Lomax Archive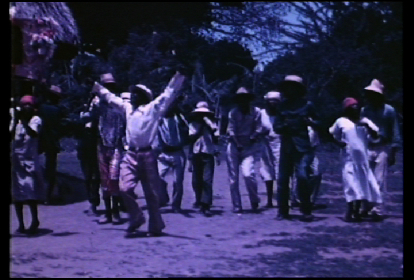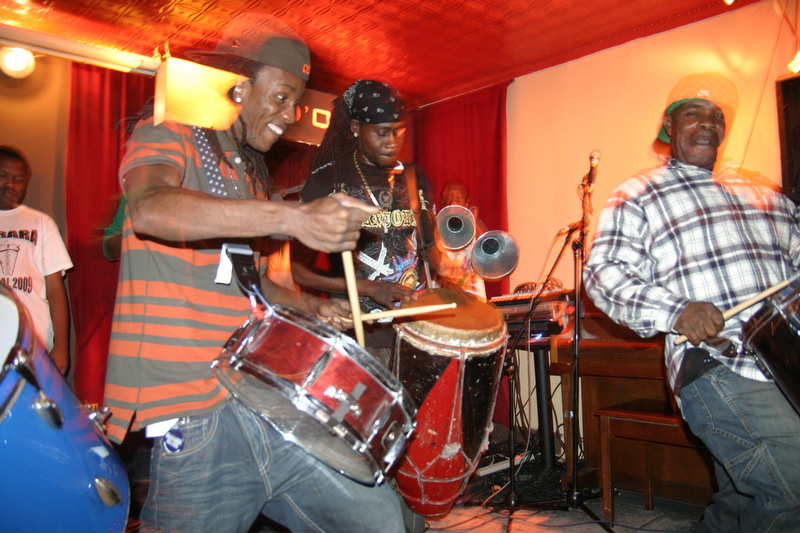 January 12 - Earthquake: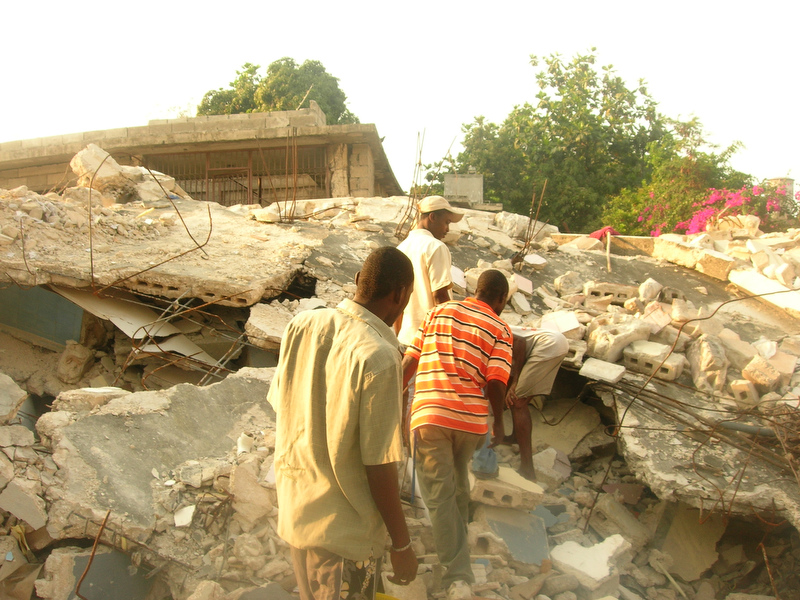 >.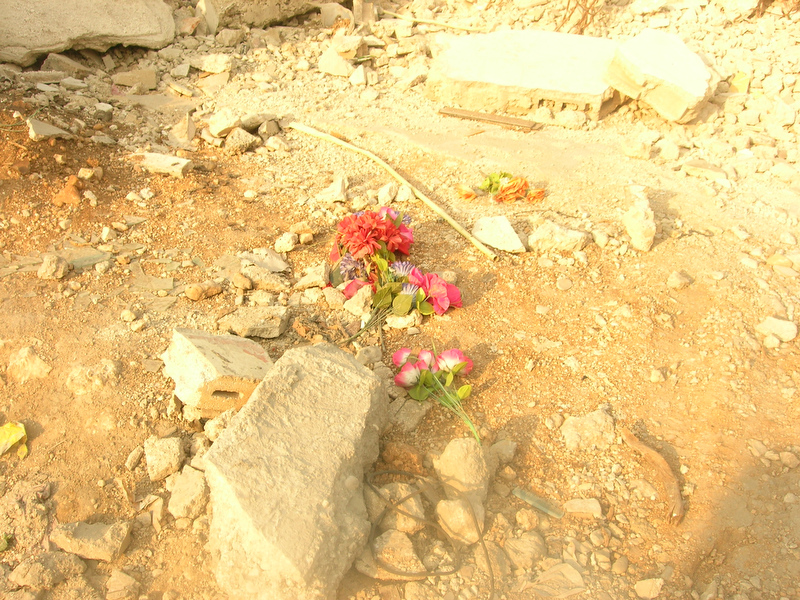 Photos of bandmember Lesly Jean Marie's house- and flowers where his nephew lies burried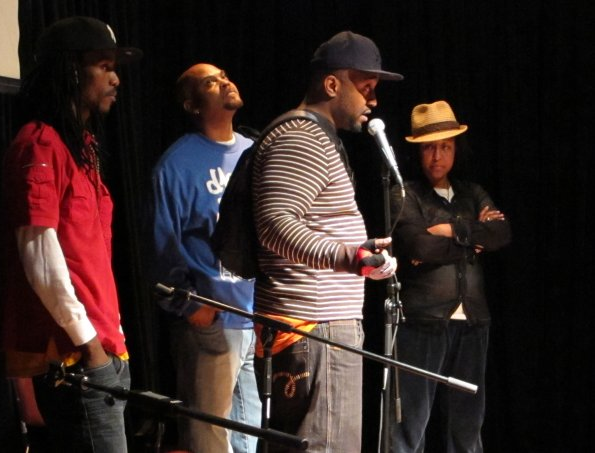 Email from Audience Member:
Magi,
I just wanted to thank you and Jeremy for bringing RaRa to Brooklyn Museum for Target Free Saturdays. I, like everyone have been overwhelmed by the amount of loss that has transpired in Port-Au-Prince this past month. My family has already experienced so much loss already and I felt myself beginning to feel bitterness towards Americans who never seemed to care about Haitians before and all of sudden grew some feelings because of the magnitude of this tragedy.
I found my soul again on Saturday night because of the film you guys so courageously created. I rediscovered my love for humanity and the RaRa almost like baptism , simply washed my bitterness away.
So merci beaucoup and mad props to you and Jeremy again for creating an environment where Haitian people can carry ourselves with dignity and pride once more.
Peace and Blessings, Nancy Moricette
1.24.10 Horns for Haiti Benefit
..
2.6.10 Brooklyn Museum of Art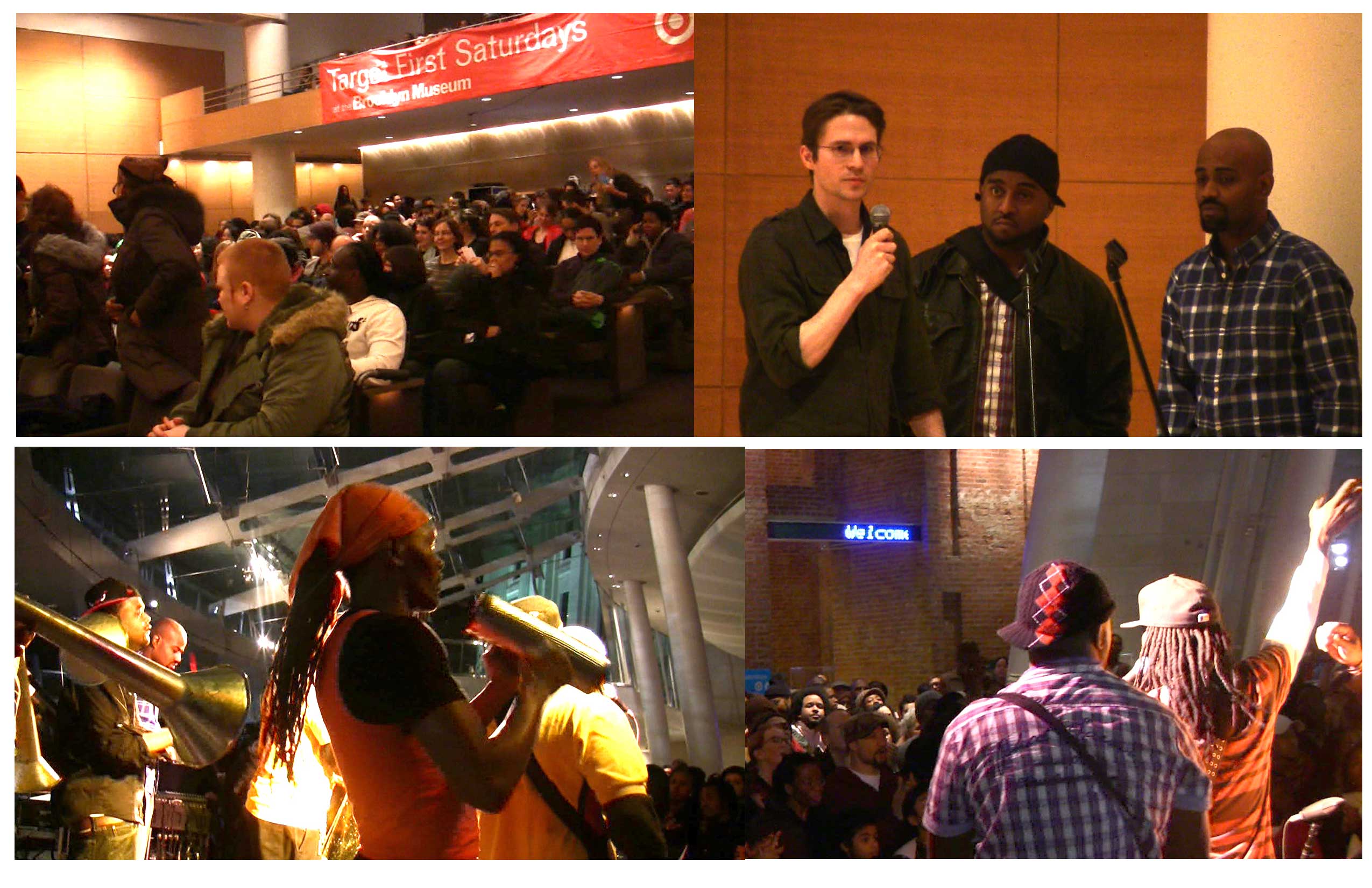 More video clips HERE
2.12.10 Downtown Community Television screening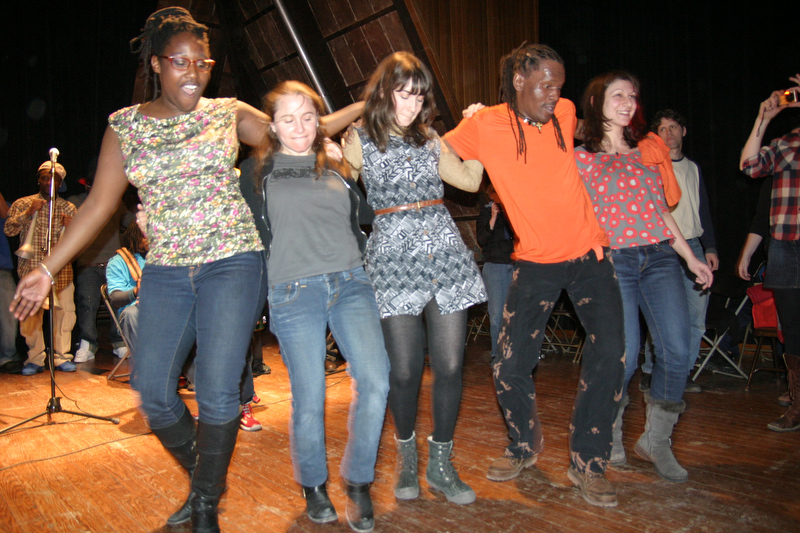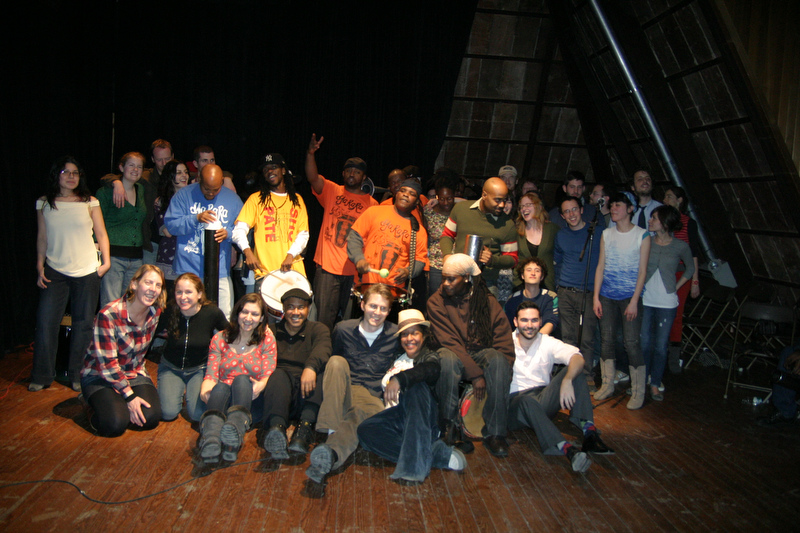 More Photos HERE
3.12.10 French Alliance "Haiti Cherie" Benefit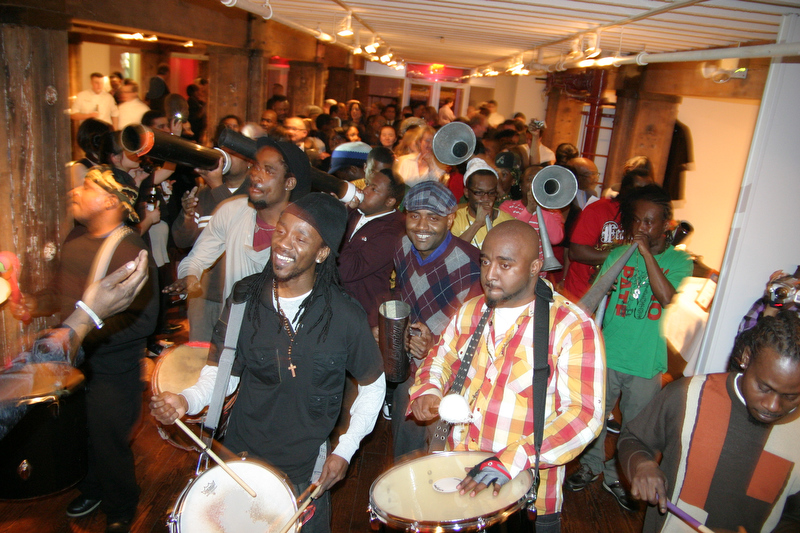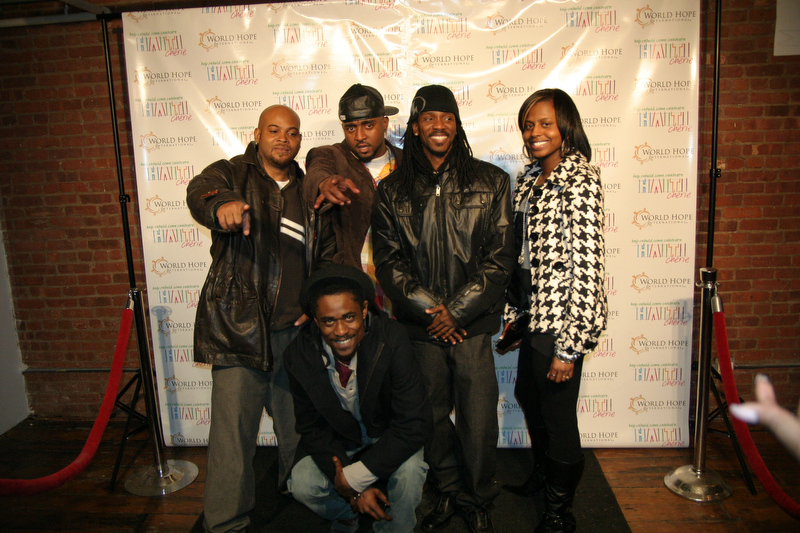 7.29.10
Lincoln Center Out of Doors Festival
9.7.10
DJA-Rara featured in New York Times Profile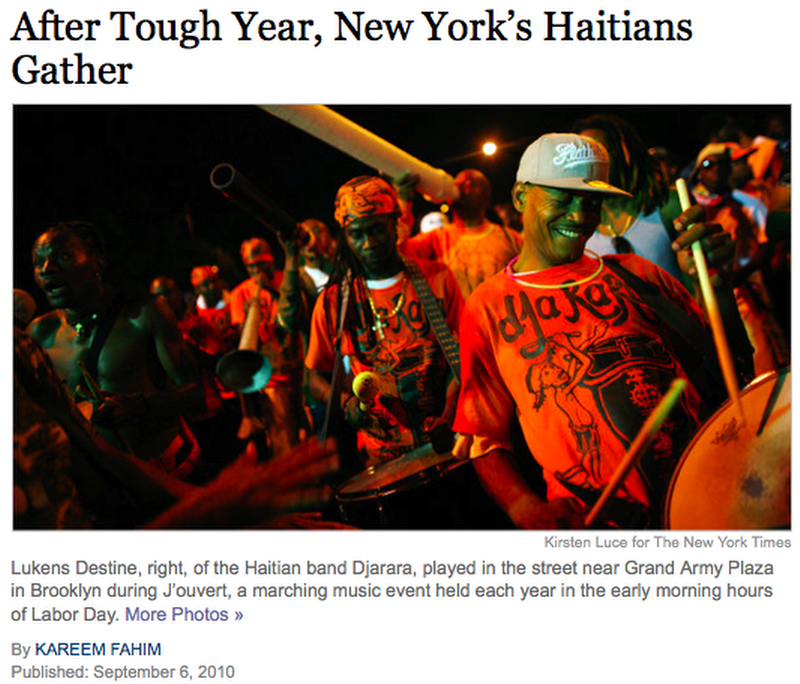 9.22-9.27.10
DJA-Rara and the Documentary go on tour to
Madison and Chicago world music fests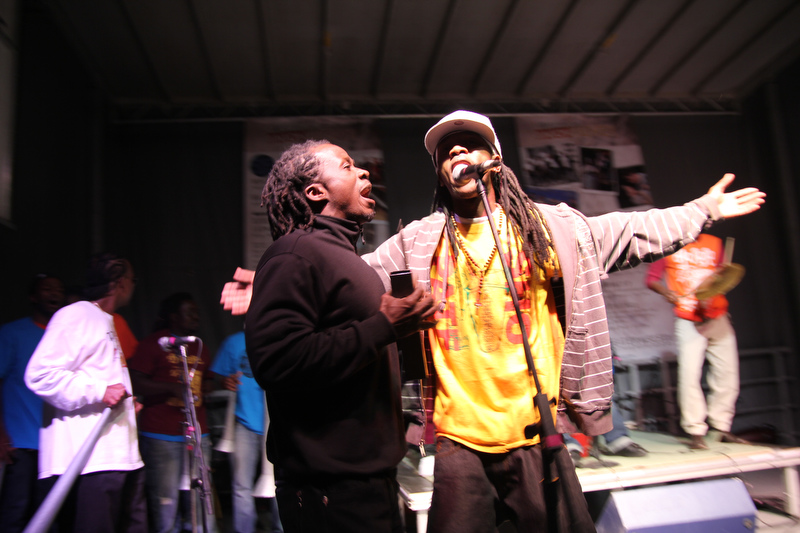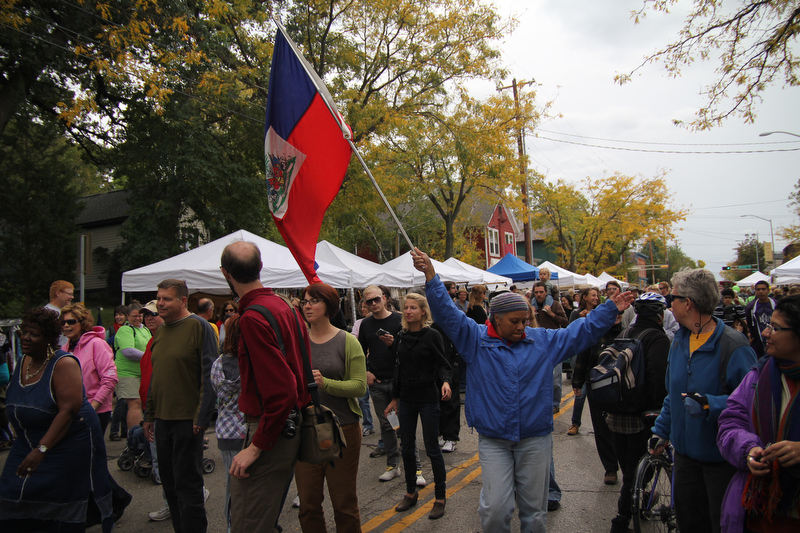 10.11.10
DJA-Rara Performs at the HONK! Festival of Activist Street Bands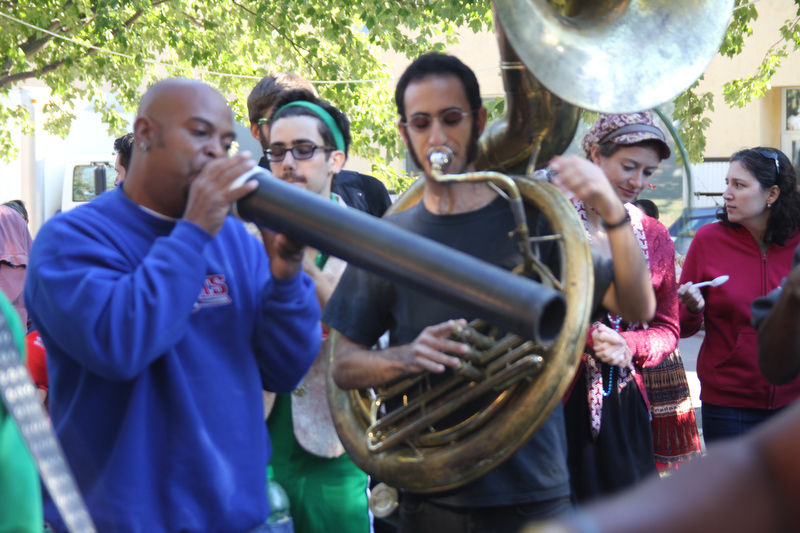 .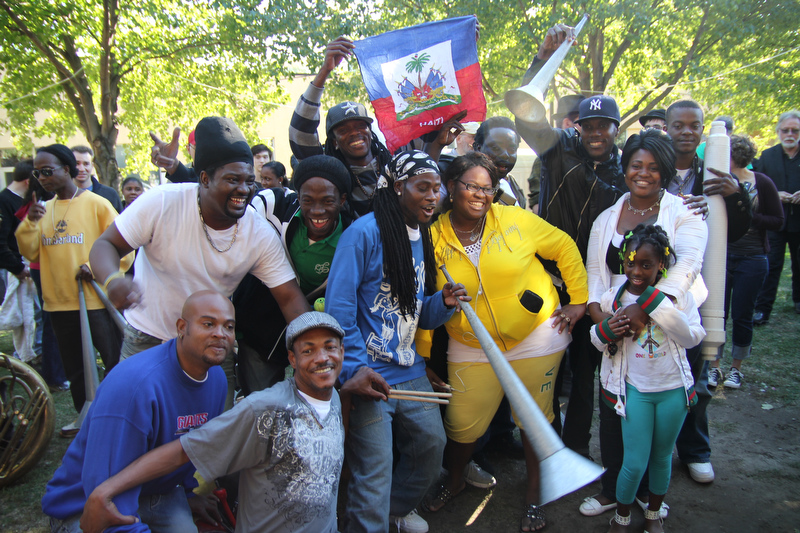 10.31.10
DJA-Rara is the "Official Band" of the Village Halloween Parade
Thank you to everyone who came out this past year to support the band and the film - and more importantly to show love and support for Haitian culture. We hope that energy and focus can continue through Haiti's long rebuilding process.
-Jeremy and Magi
2009 Highlights
Read Sasha Frere-Jones recent round table discussion in the NEW YORKER MAGAZINE about rara music, featuring Edwidge Danticat
11/24/09 "Cultures on Parade" at the New School
"Cultures on Parade" was a special screening and discussion on at the New School featuring "The Other Side of the Water" and "Play Mas" by Michelle Stephenson. Info here: http://www.newschool.edu/eventDetail.aspx?id=36435
9/7/09 Return to BAM
On Labor Day, September 7th, we returned to the Brooklyn Academy of Music. It was a wonderful day of screenings, which we attended while running back and forth to the Eastern Parkway Carnival. Thanks to the Creatively Speaking series and everyone who came out!
September Screenings:
*September 17th and 28th Trinidad & Tobago Film Fest
*September 30th-October 4th International Festival of the Haitian Film of Montreal
*Date TBD: Caribbean Creativity in the Netherlands
7/12/09 Screening at the Caribbean Tales Film Festival
Toronto Canada. More information HERE
6/6/09 Screening at The Hollywood Black Film Festival
Info HERE and link to radio interviews on Sak Pase California
_________
5/09 "The Haitian Rara Experience" in Miami
From May 21st-24th Miami hosted "The Haitian Rara Experience": a 4-day festival of film screenings, workshops, parties, and music events. The main event was the Theatrical Premiere of "The Other Side of the Water" at the historic Colony Theatre on Miami Beach, followed by a live performance of Brooklyn's DJARARA.
Thanks to our presenting partners: Miami Light Project, the Backyard Movement, Change Charity, Inc., Moksha Family, and HaitiXchange.com.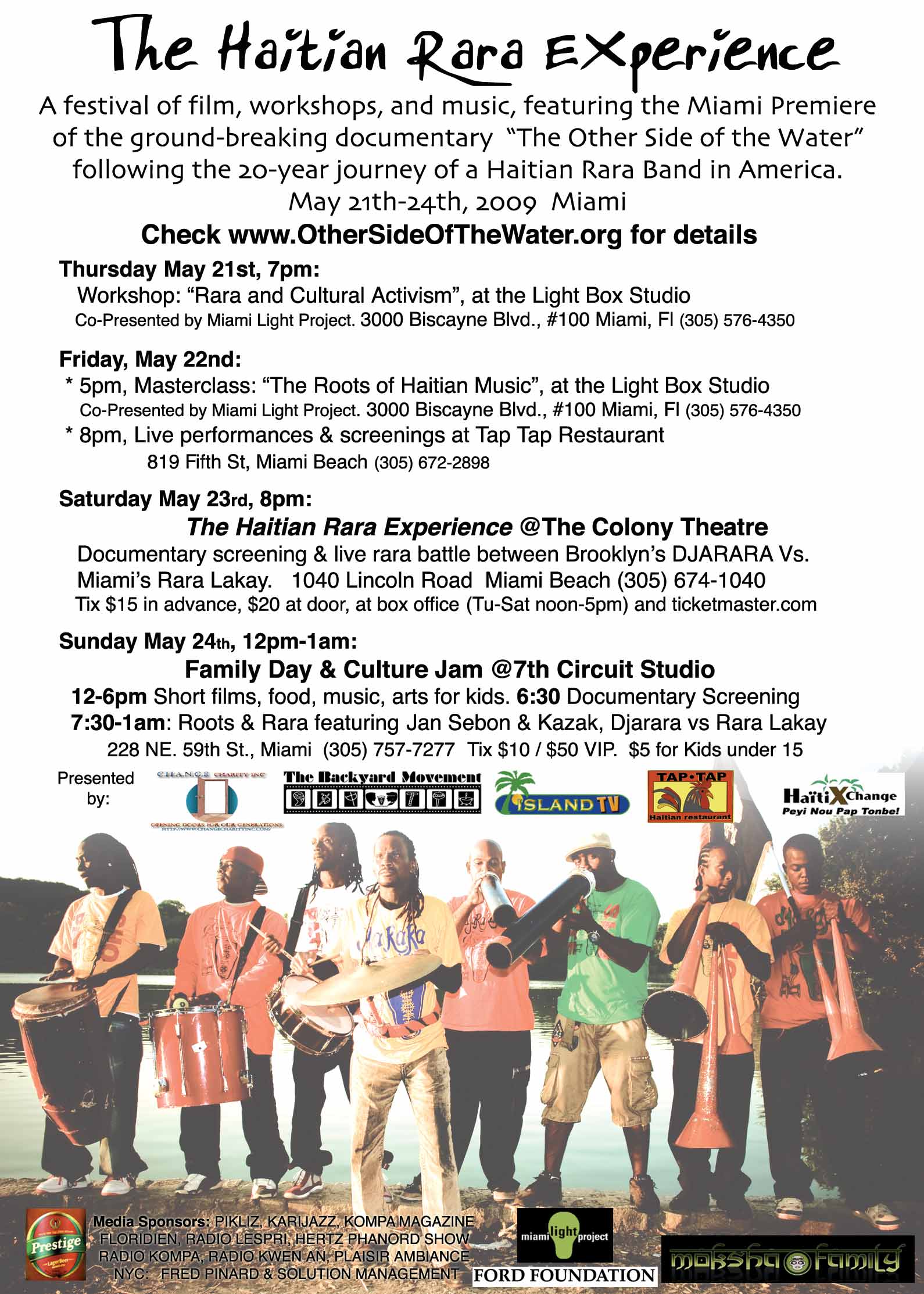 (Click for larger image)
_________
1/09 Obama Trip Special Series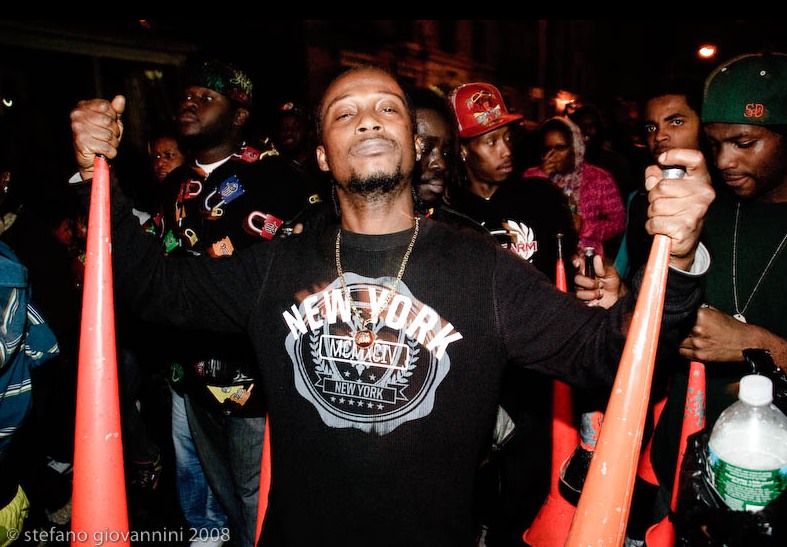 The musicians from DJARARA went in force to DC for the Obama Inauguration. Check out their full historic journey HERE
_________
12/08 Re-Launching Educational Workshops: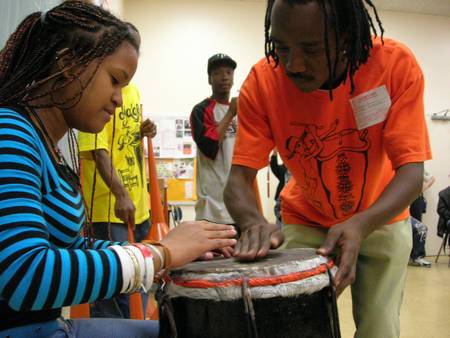 This year we're re-launching our educational programs in high schools and universities. Over the past few years the filmmakers and the musicians of DJARARA have teamed up to create workshops, presentations, and cultural events across the country. We toured NYC high schools through Carnegie Hall's educational program (photos here), presented to musicology and sociology classes from Amherst to Bard College to Connecticut College, and worked with Haitian Student Associations at schools including Columbia University and SUNY Binghamton. If you're interested in finding out more or hosting an educational event, contact us at othersideofthewater@gmail.com
_________
9/08

Festival Premiere at Urbanworld Film Festival - September 12th, 2008.
"The Other Side of the Water" was proud to be a part of the 12th Annual Urbanworld Film Festival in NYC - presented by BET and HBO. Stay tuned for information on our upcoming festivals and theatrical premiere in NYC slated for February 2009.
Thanks also toHaitiXchange.com, Brooklyn Papers, heritagekompa.com, Caribbean Life newspaper, this Prospect Park Blog as well as Radio Soleil and Radio Pa Nou for the great shout-outs.
_________
8/08
Sneak Preview at Brooklyn Academy of Music BAM Rose Cinema. Afterparty featuring DJARARA and Master Drummer Fritzner Augustine - August 28th, 2008. Click HERE for link to BAM page...

Photos from our Sneak Preview at Brooklyn Academy of Music
visit our Flickr Photostream Here
Thanks also to HaitiXchange.com, Brooklyn Papers, this Prospect Park Blog as well as Radio Soleil and Radio Pa Nou for the great shout-outs

_________
1/08: We've finally picture-locked the documentary! The Other Side of the Water is now in the finishing stages and we're excited to be working with graphic arist Ben Fine (visual effects editor for Oscar Nominated "Enron: the Smartest Guys in the Room") and sound mixer Anne Pope (sound editor for Oscar winner "Born into Brothels"). Stay tuned for our launch this spring and summer...
_________
7/07 The Backyard Show comes to Brooklyn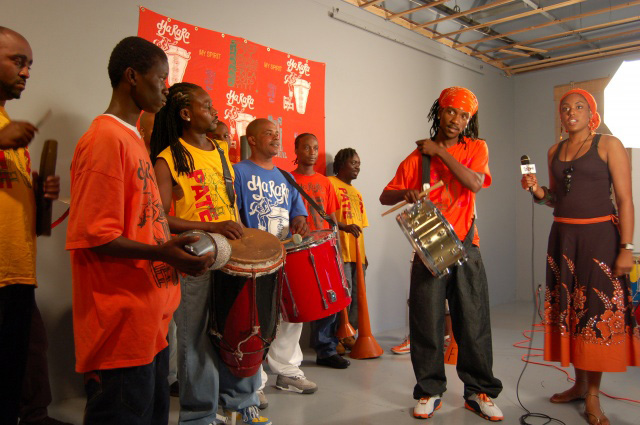 Host Nati Dred of The Backyard Show with DJA-Rara [photo: Johny Jacques]
In July a crew from The Backyard Show flew up from Miami to New York and taped two shows on Haitian roots culture in Brooklyn. The first show focused on DJA-Rara and our documentary, the second on other Haitian roots musicians. The Backyard Show is an great new arts and culture talk show that's making a lot of noise in Miami [Look up their recent article in Miami Herald or link to their site here]. It was a hectic but fun taping – with a live audience and all! Five Myles art gallery provided the space, HaitiXchange came by, as well as come great artists and Brooklyn culture heads. Check out pics here, and the show should be up on the Backyard website in a few weeks…
_________
4/07 Clips from doc being shown at Brooklyn Historical Society: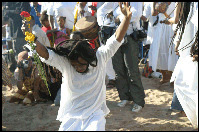 photo:Delphine A. Fawundu-Buford

Clips from the documentary were featured in an exhibit called "A Drum Beats in Brooklyn" at the Brooklyn Historical Society. The exhibit focuses on drum-based and African-influenced cultures in Brooklyn, and runs from February 14th to May 13th, 2007. Info at the BHS website .
_________
4/07 Short-film in Festivals:
In 2005 we made an 11-minute work-in-progress that we called "Brooklyn Racine." Soon word got out, and the short was requested by a number of film festivals. Here's the list to date:
September 07: Women in Film LA - evening of Haitian Filmmaking http://www.soleilfilms.com
October 07: Montreal International Haitian Film Festival:http://www.festivalfilmhaitien.com/programme_en.html
November 06: the Guelph International Film Festival, http://www.girc.org/giff/ Deceber 06: Festival Film Jakmel (our premier in Haiti!) in Jakmel, Haiti - just south of the capital:http://www.festivalfilmjakmel.com/
_________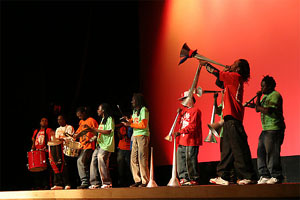 3/07 Recent Screenings and Presentations at Universities:
The filmmakers have teamed up with the musicians of DJA-Rara to give a series of presentations at colleges and universities in the Northeast.
April 07: Connecticut College
February 07: Columbia University
October 06: SUNY Binghamton
September 06: Amherst College
April 07: Connecticut College
_________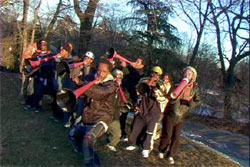 2/07: BAND NEWS:
DJA-Rara's latest studio track "Zwazo Vole" was singled out by Afropop Worldwide as one of the top Carnival songs for 2007 (click here for the link ), and has been on dozens of top-10 lists by critics and fans. For other info on performances and events by Djarara and Friends, click HERE
_________
4/06 Through the Carnegie Hall Global Encounters Program The Other Side of the Water and DJA-Rara visit high school classrooms in Brooklyn, Queens, Bronx, and Manhattan. We screened clips from the documentary, talked about the history of rara, and taught students to play drums and kone horns. SEE PHOTOS HERE.
April 28th, 2006: Carnegie Hall's Neighborhood Concert Series presents a screening of 10 minutes from Other Side of the Water and a performance by DJA-Rara at CUNY's Caribbean Studies Center. SEE PHOTOS HERE.
_________
1/06: Kurt Engfehr joins team as Consulting Editor. Kurt Engfehr was editor and co-producer of "Bowling for Columbine" and "Fahrenheit 911." He was awarded the American Cinema Editor's award for best documentary editing in 2002 for his work on Bowling for Columbine, and we're excited to have him on board.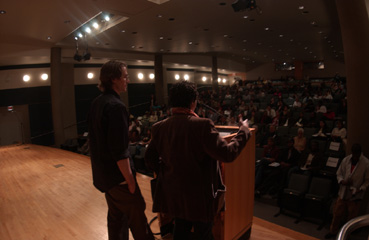 PAST WORK-IN-PROGRESS SREENINGS
April 28th, 2006: Carnegie Hall's Neighborhood Concert Series- screening with performance by DJA-Rara at CUNY Caribbean Studies Center
February 21st 2006: Rough-cut screening at Brooklyn Public Library's "Documenting Brooklyn" series.
September 1st and 2nd, 2005: Work-in-Progress screening at Brooklyn Academy of Music's Caribbean Diaspora Film Festival
December 2nd 2006: WIP at "Homegrown" community film event sponsored by the Prospect Lefferts Gardens Neighborhood Association
February 28th, 2005: Presentation at the Community School for Social Justice, Bronx, NY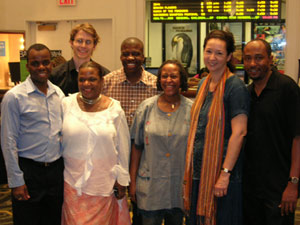 At BAM: Filmmakers with staff of the 18 Mai Committee, HaitiXChage.com, and Michele Montas - widow of slain journalist Jean Dominique from "The Agronomist"